Daniel Akiva, Israel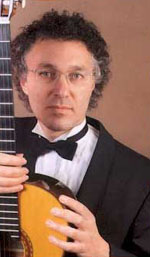 Daniel Akiva was born in Haifa, Israelin 1953. He studied composition with Haim Alexander and guitar with Haim Asulin at the Rubin Acadamy of music Jerusalem, from which he has received his B. Mus with distinction and Artist Diploma.

In 1987 he won the prize for composition and performance awarded by the Swiss Confederation. This prize enabled him to study at the Geneva Conservatorium with prof. Jean Ballissa (composition) and with Jhonathan Rubin (Lute).
In 1990 he won the Acum prize for his work Mizmorim (psalms).
His works include compositions for solo insturments (guitar, Lute, recorder, flute, violin and piano) for chamber ensembles (children choir, voice and guitar, voice an cello and piano) chamber orchestra (mezzo soprano an strings).
As performer, Daniel Akiva took part in festivals, concerts and recordings for radio and TV in Israel and abroad.
1982 - He took part as a composer and performer, in the series; "Here and Now" at the Israel Museum.
1983 - In Germany (Ham and Bochum) at the festival for Israeli Art, Daniel Akiva represented Israel as a composer and performer.
1984 - He accompanied the Soprano Singer Victoria de Los Angeles in a series of concerts at the prestigious Israeli festival.
Since 1985 he has appeared in many festivals and concerts as soloist and chamber player in: Spain, France, Swiss, United States and fourteen countries in Latin America.
His repertoire includes works from the Renaissance to the 20th century. Special emphasis is placed in his programs on original music that he has written and that has been written for him by Israeli composers.
Daniel Akiva has a strong dedication to educating younger generations of musicians. He heads the music Department at the Wizzo High school for the Arts, which he has etablished in 1986. He heads also the music Department in "Kerem" institute for teachers in Jerusalem.
His string quartet:ciclos,awarded the Acum prize for composition in 2002.